You Don't Have To Live With Knee Pain Anymore
The physicians at Physicians Surgery Center use the Robotics-Assisted Surgical System from Smith+Nephew to perform total and partial knee replacement.
If you're one of the estimated 30 million Americans suffering from osteoarthritis, discover how partial knee replacement using robotic assistance delivers accurate and precise results that can help you return to the activities you love.
Call us today to set up an appointment with one of our trained physicians.
How do I know if I am a candidate for robotics-assisted partial knee replacement?
Although each patient must consult with a physician individually, typical partial knee replacement candidates share the following characteristics:

Knee pain on the inner knee during activity
Start-up knee pain or stiffness caused by activities initiated from a seated position
Knee pain is limiting activity on more days than not
No longer finding relief through non-surgical treatment options
Read More about the Robotics-Assisted Surgical System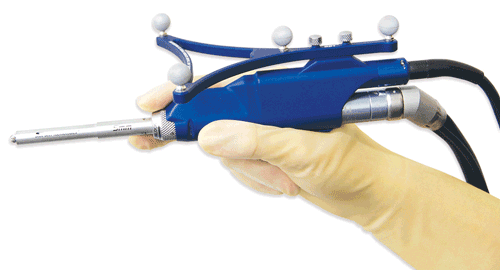 The Smith+Nephew system is a robotics-assisted tool used by surgeons to perform accurate and precise partial knee replacement.
Partial knee replacement is a potential alternative to total knee replacement for some patients suffering from early to mid-stage osteoarthritis.
Candidates for partial knee replacement have osteoarthritis generally limited to one compartment of the knee, making up roughly 35%+ of people dealing with knee pain. In partial knee replacement, the supporting ligaments vital to knee stability are spared and the damaged portion of the knee is replaced with an implant, leaving healthy cartilage and bone intact.
The use of robotic assistance in partial knee replacement is designed to optimize the accuracy of bone preparation, implant positioning, and soft tissue balancing, where implant alignment is a crucial factor in determining how long the implant will last. In the U.S., where only 8% of knee replacement procedures are partial knee replacements, the robotics-assisted system provides a platform for surgeons to perform a technically challenging procedure that, compared to total knee replacement, offers:

Less pain
Quicker rehabilitation and recovery
Lower risk of complications
Shorter hospital stay
Smaller incisions
A more normal feeling knee
The robotics-assisted system provides:

Consistent results
Accurately placed implants
Customized implant planning
CT-free technology – one CT-scan is equivalent to radiation exposure seen in 48 chest radiographs
Partial Knee Replacement with Traditional Techniques
Using traditional surgical methods, cutting blocks or guides are placed on the thigh bone (femur) and shin bone (tibia) to help direct a surgical saw in removing the diseased bone and cartilage. Historically, this method has been considered technically challenging due to the difficulty in accurately placing these blocks. Recently, robotic assistance has been introduced to assist surgeons with accurate implant placement and positioning. Partial
Knee Replacement with the robotics-assisted system
Through an advanced computer program, the robotics-assisted system collects precise information about your knee for the surgeon to use and create a patient-specific surgical plan. Once the plan is determined, the surgeon uses a surgical tool to accurately prepare the bone surface for implant placement. There is no special pre-operative preparation or post-operative recovery protocol with a the robotics-assisted procedure. The system itself does not perform the procedure, rather it assists the surgeon in partial knee replacement by providing accuracy and precision.